Ball and Beam
1 DOF Control Platform for Teaching and Research
ACROME Ball and Beam System is ideal to introduce students to the fundamental and intermediate principles of controls. Let's teach automatic control with Ball and Beam!
REQUEST A QUOTE
OVERVIEW
Apply control theory in real-life with ACROME Ball and Beam! The ball and beam system consists of a long beam together with a ball rolling back and forth on top of the beam. The long beam tilted by a servo. Our Ball and Beam System provides practicing the automatic control theory on a closed loop experiment. Controlling the position of a ball on a beam is one of the classical problems of control theory. Ball and Beam System can be used for a wide range of control system design implementations from basic linear controllers to advanced nonlinear methods. Students are able to understand system design approaches with Ball and Beam's learn-by-doing method. With the help of the courseware, they can distinguish effects of linearizations, assumptions and modeling errors due to the differences between simulations and real world experiments.
Assembled and ready to control plant with the integrated power unit
Getting Started Program with rich Graphical User Interface for out-of-the-box user experience
Implementation of advanced digital control techniques
Fully compatible with MATLAB®/Simulink® and LabVIEW™
Fully documented system models and parameters provided for MATLAB®/Simulink®, LabVIEW™
Actuating the table by RC servo motor, which is familiar to students
Ball position sensing by a linear potentiometer
Enables students to create their own real-time algorithms
Open architecture with extensive courseware, suitable for undergraduate courses for engineering disciplines related to control systems
SPECIFICATIONS
| Calibrated Base Dimensions | : 450 mm x 160 mm |
| --- | --- |
| Beam Length | : 530 mm |
| Lever Arm Length | : 143 mm |
| Support Arm Length | : 165 mm |
| Potentiometer Sensor Length | : 500 mm |
| Motor Arm Length | : 24 mm |
| Motor Torque | : 4.8V: 0.5 N·m |
| Motor Speed | : 4.8V: 0.20 sec/60° |
     *We offer customization in our product upon customer's request.
Ball Balancing Table
2 DOF Control Platform for Teaching and Research
Ball and Beam
1 DOF Control Platform for Teaching and Research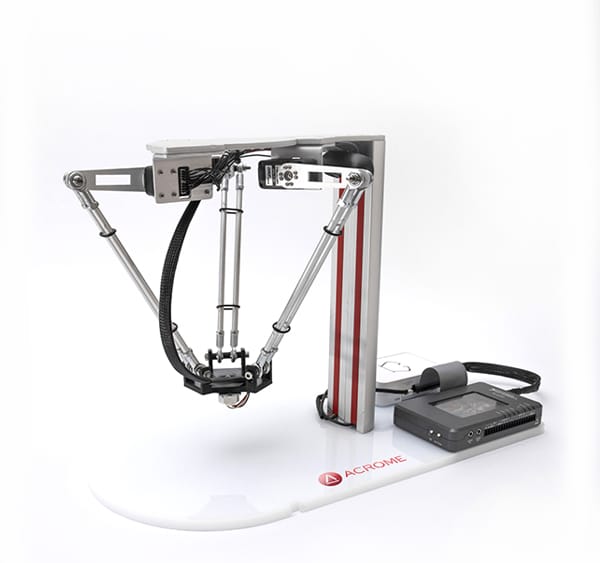 Delta Robot
3 DOF Vision Guided Robotic Platform for Teaching and Research
Stewart Platform
6 DOF sophisticated motion system for robotics and controls
1-DOF Copter
Flight simulation control unit for teaching and research
Acrobot
6 DOF Robotic Arm for research and teaching
Linear Inverted Pendulum
2 DOF Control Platform for Advanced Control Teaching and Research