Ball Balancing Table
2 DOF Control Platform for Teaching and Research
ACROME Ball Balancing Table is an innovatively designed experiment system suitable for controls and mechatronics education and advanced research topics.
REQUEST A QUOTE
OVERVIEW
Ball Balancing Table, with its easily accessible and user-friendly components, is a hands-on experiment, closing the gap between real industrial systems and DIY-approach. Students can understand the effects of different controller types on the system and easily cover controller design concepts with control system experiments. The ready-to-use courseware and a wide range of software options give the maximum flexibility to learn the essential aspects of control theory by experimenting. The system is also suitable for graduate studies for designing advanced controller types such as robust control, adaptive control, and so on. Open-source software makes it possible that students and researchers can modify and test their own developed algorithms.
Assembled and ready to control plant with the integrated power unit
Getting Started Program with rich Graphical User Interface for out-of-the-box user experience
Implementation of advanced digital control techniques
Fully compatible with MATLAB®/Simulink®, LabVIEW™ and Altair Activate®
Fully documented system models and parameters provided for MATLAB®/Simulink®, LabVIEW™, Altair Activate®
Ball position feedback using a high precision touch surface (camera-based feedback optional) Actuating the table by RC servo motors, which are familiar to students
Rectangular and circular path options are integrated into the software
Enables students to create their own real-time algorithms. Open architecture with extensive courseware, suitable for undergraduate courses for engineering disciplines related to control systems
Digital twin available in Altair software.
SPECIFICATIONS
| Calibrated Base Dimensions | : 350 mm x 410 mm |
| --- | --- |
| Table Dimensions | : 288 mm x 355 mm |
| Touch Surface Dimensions | : 17'' |
| Motor Torque | : 4.8V: 0.5 N·m |
| Motor Speed | : 4.8V: 0.17 sec/60° |
     *We offer customization in our product upon customer's request.
Ball Balancing Table
2 DOF Control Platform for Teaching and Research
Ball and Beam
1 DOF Control Platform for Teaching and Research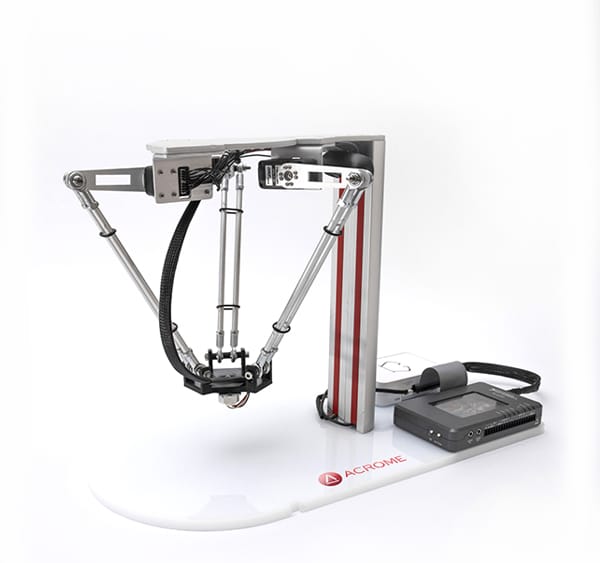 Delta Robot
3 DOF Vision Guided Robotic Platform for Teaching and Research
Stewart Platform
6 DOF sophisticated motion system for robotics and controls
1-DOF Copter
Flight simulation control unit for teaching and research
Acrobot
6 DOF Robotic Arm for research and teaching
Linear Inverted Pendulum
2 DOF Control Platform for Advanced Control Teaching and Research